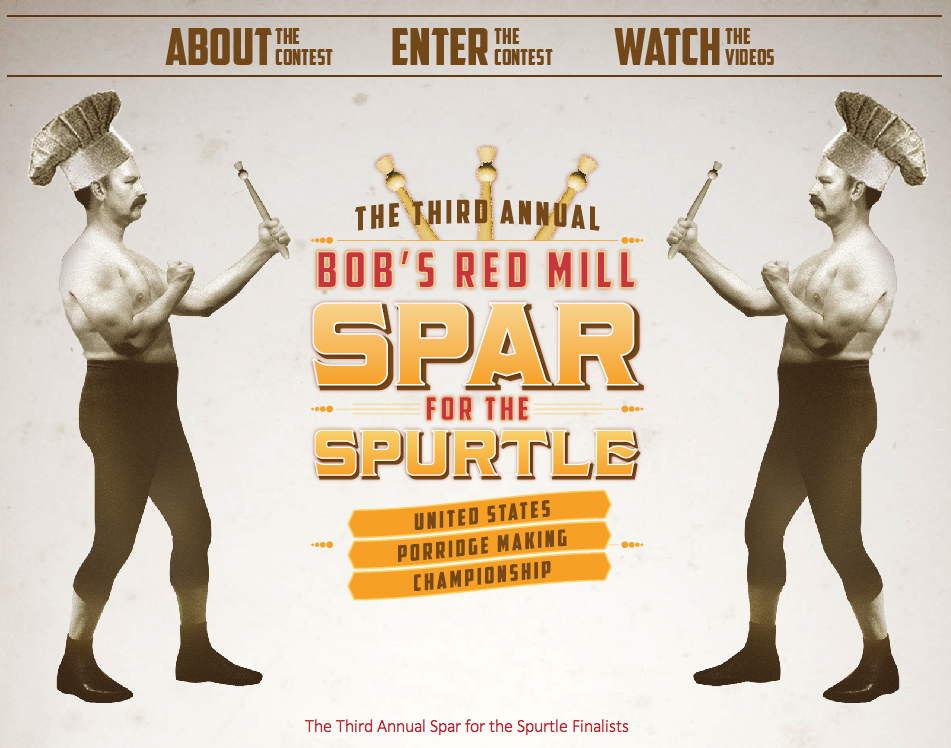 Some things are meant to be! Two of my favorite worlds have randomly collided: spurtles and organic grains. Let me explain: for years I've been a diehard user of Bob's Red Mill products especially the steel cut oats and all flours.
I watched as the company has grown and kept itself front and center in a growing natural foods industry. As luck would have it, I met Bob (who looks exactly in person as his package image represents) and his team for the first time when they recently visited New York.
Soon after, they invited me to participate as a judge in a cook off in which Bob's is seeking the best recipe and cook to represent them at the International Golden Spurtle awards in Scotland. SPURTLE awards??? In case you don't know—I have gone spurtle-mad myself in the last five years—accidentally discovering one from a handcarver in Washington State that I used for everything. Once folks began to see it on Mad Hungry TV, the letters poured in requesting to know about "that elongated wooden spoon thing."
Finally last year we made our own Mad Hungry Bamboo Spurtles -the sustainable, sturdy, affordable, anti-microbial bamboo is the perfect material for the refined design we came up with. I use this favorite all-purpose tool literally for every kitchen utensil task except cutting.
But back to Bob's. They had no idea they had actually asked the spurtle lady to judge a recipe seeking a spurtle award. Talk about a perfect authentic partnership! So, on Friday August 16th I'll be in Portland, Oregon, judging the the finalists and their recipes in #sparforthespurtle (btw, love the that name)! I'll get a firsthand glimpse of Bob's Red Mill not to mention a visit to one of the great food cities in the USA.
In order to celebrate Bob's Red Mill and I have paired up to give the perfect prize pack! For FIVE lucky winners you will receive both Mad Hungry and Mad Hungry Cravings, 3 different varieties of Bob's Oats (Steel Cut Oats, Scottish Oatmeal and Old Fashioned Rolled Oats), AND a set of my own Mad Hungry-branded spurtles— currently not available anywhere else!!
It's easy to enter and winners will be picked at random on Friday, August 16th. ENTER TO WIN HERE!
Stay tuned for stories from the spurtle spar this week and an oat and spurtle-worthy recipe every day! Today's #sparofthespurtle recipe? My Golden Granola, which I love making big batches of and using throughout the month.