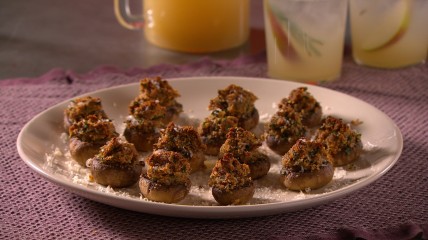 Today on MHTV: Repeat this over and over — "entertaining doesn't have to be stressful". I love throwing an impromptu cocktail party or dinner to bring friends together and I promise it doesn't need to be hard to put together. Today's menu is all about easy hor d'ouevres that are so good, no one will believe how fast they were put together. Chicken Liver Pate sounds way more complicated than it is; with a little skillet work and a food processor you'll have a a dish that took minutes and is creamy heaven served on toasted brioche bread.  Stuffed Mushrooms are hearty and delicious and get most of their flavor from pantry staples. My pear-rosemary cocktail, made with vodka and simple syrup, is a perfect complement with none of the fuss.
Recipes from this Episode:
Get the recipes from the 11:30 am ET show: Classic Pot Roast
Watch "Mad Hungry with Lucinda Scala Quinn" Mondays at 11:30 a.m. ET/10:30 a.m. CT, Tuesdays through Fridays at 11 a.m. ET and 11:30 a.m. ET on Hallmark Channel.