Black Bass
Japanese Sweet Potatoes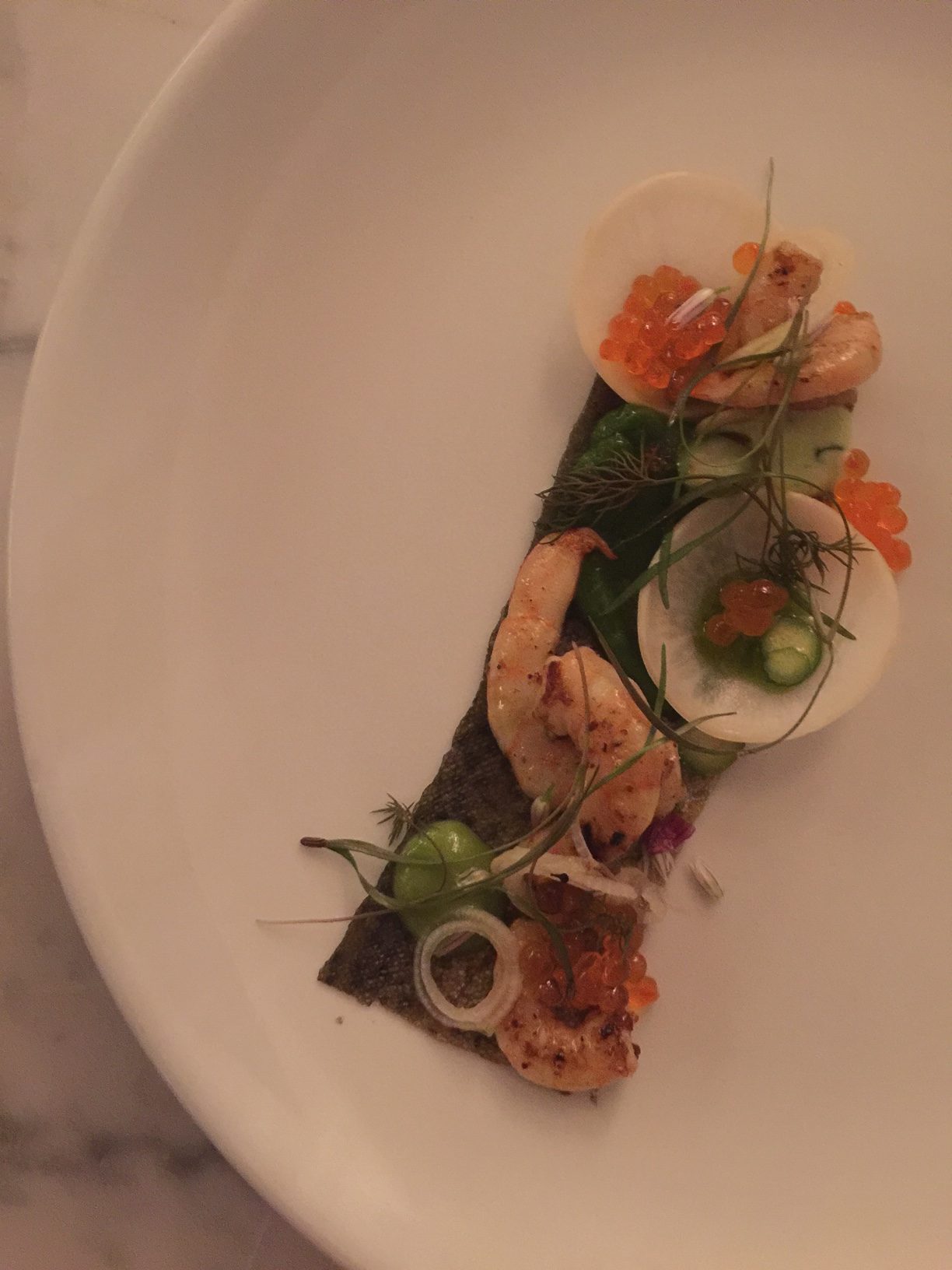 Shrimp, Trout Skin and Roe (and a bunch of amazing spring vegetables)
Last week I ran into a former colleague at the Union Square Farmers Market here in NYC. Gabe McMackin worked closely with me at Martha Stewart during a time when we were developing food products for retail. He had come from the kitchens of Blue Hill at Stone Barns working with chef Dan Barber, as well as previously working with chef Mike Anthony at Gramercy Tavern (and now of Untitled at The Whitney Museum), and many other places along the way.
Meanwhile, Gabe went on to become chef-owner of The Finch in the Clinton Hill neighborhood of Brooklyn. When I saw Gabe that day at the market, I told him I was embarrassed that I hadn't been to his new place yet. In his characteristic kind-hearted manner, he only smiled and said that he would be there when I was ready.
Last night I went with my chef son, Miles. We sat at the bar. And I can honestly say that it was the most exciting food I've had at a restaurant in years. After tasting only a few dishes, it became impossible to ignore how special his food had become (and, in my mind, he was already one of the most talented chefs I had ever worked with). I told my son that this was one of those very few times that I wished I was still a big-time influential food editor so I had the power to reach millions and tell them how special Gabe's food at The Finch is. Since I already struggled to express my sincerest thanks to him in a note, I'll just reprint it here. If you're in NYC and looking for a truly special experience, that's worth every penny, then please visit chef Gabe at The Finch.
Dear Gabe,
Many thanks for a truly memorable meal last night. I honestly can't remember the last time I enjoyed such an incredible holistic eating experience in a restaurant. The predictable spring produce combined and served in still unpredictable ways was utterly exciting, dish after dish after dish. And, to be eaten in a comfortable, informal setting makes for such an unusual combination in this city. The staff and the physical lay-out are all lovely.
I don't think I can describe myself with enough superlatives. If it sucked or was mediocre, I'd say thank-you and find something positive to say. Instead, I'm searching to put words to the feelings I have leftover from the memory of an amazing dining experience. What an inspiration. Please continue to stay true to yourself as a gift to us all. Any of your mentors or colleagues would be lucky to learn from the lessons you have to offer. And when the trials and tribs present themselves, I know you will prevail.
xx
Lucinda