Most of you know the MH background. When faced with a squad of hungry boy children– Some strategies emerged for our parental survival….It's all written about in the first MH cookbook if you need a few tips. Meanwhile, it makes me happy to no end to see these boys and their friends become their own everyday cooks.
One such distinguishable character, John Dennison, was Calder's roommate in college. As far as I could tell when we met—he had a propensity for packaged foods with an odd sidebar cooking repertoire, which consisted of Borscht and Angel food cake. One one visit to that apartment, I noticed a new addition to his act—noted through the demolition of a (handed down to Calder) Le Creuset pot.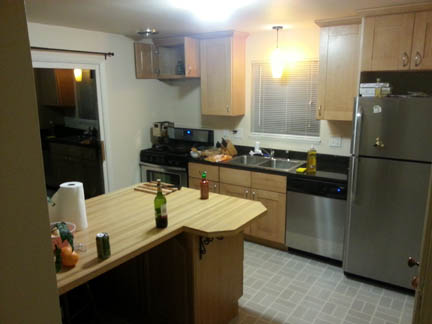 Turned on to a Quinn breakfast staple of fried eggs over rice—John ran with it—making daily pots of rice for those eggs. And, just for the record—as impressive as his emerging cooking skills were—his cleaning up skills needed MAD help.Its is this very John I refer to on paragraph 2, page 12 of MH (just saying).
But judging from his photo he sent me today—three years since that college apartment– he's added sausage and peppers to his meal time, uses the spurtle on the regular and appears to have acquired a few cleaning skillz along the way too.