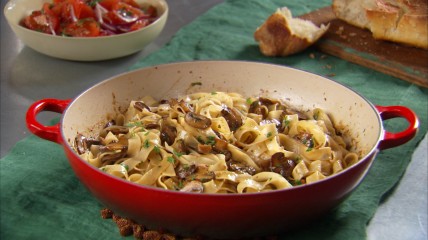 TODAY on MHTV: After a long day, sometimes all you need is a big bowl of comfort food. Since I'm trying to go meatless at least once a week, this hearty mushroom pasta with its cheesy, creamy sauce is sure to satisfy a comfort craving. A light side of pomodoro salad drizzled with olive oil doesn't need any extra dressing and, for a little sweet, a bowl of chopped dark chocolate, toasted almonds and golden raisins is a great no-cook snack.
Get the recipes from this episode:
Dark Chocolate with Toasted Almonds and Golden Raisins
Get the recipes from the 11:30 am ET show: Indulgent Breakfast
Watch "Mad Hungry with Lucinda Scala Quinn" Mondays at 11:30 a.m. ET/10:30 a.m. CT, Tuesdays through Fridays at 11 a.m. ET and 11:30 a.m. ET on Hallmark Channel.